Statue filling course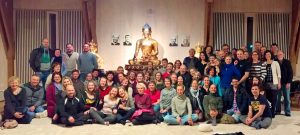 For the first time, an open statue filling course took place in the big Europe Center gompa, creating an unprecedented surrounding for this precious activity.
The ancient tradition of statue filling is an activity that brings the sangha together, creating strong bonds between us for probably more than just one lifetime, according to the Buddhist teachings. The teachings also say that everybody involved in such a process accumulates immense merit and very good karma, regardless of the nature of their contribution; be it rolling mantras, cleaning statues, cooking or looking after children to enable others to participate.
More than 70 friends from different countries came to work together and exchange, cleaning the statues, rolling mantras, sorting precious and semi-precious stones, dried herbs and flower petals for the fillings of the statues, which added up to be…
our 16 Karmapa statues
12 of Lama Ole Nydahl's personal statues, including a beautiful Guru Rinpoche statue given to him as a gift by the EC sangha
6 center statues for Montevideo (Uruguay), Dillingen, Berlin, Kaufbeuren (Germany) and Geneva (Switzerland)
nearly 100 private Buddha statues and stupas from the EC Sangha
One of the most touching moments for the EC sangha certainly was filling of the lotuses of the Karmapa statues and Lama Ole's Guru Rinpoche with herbs, flowers, precious objects, incense and semi-precious stones together. We would like to thank everybody who made this wonderful course possible very much!